The Ultimate Guide to Shed Options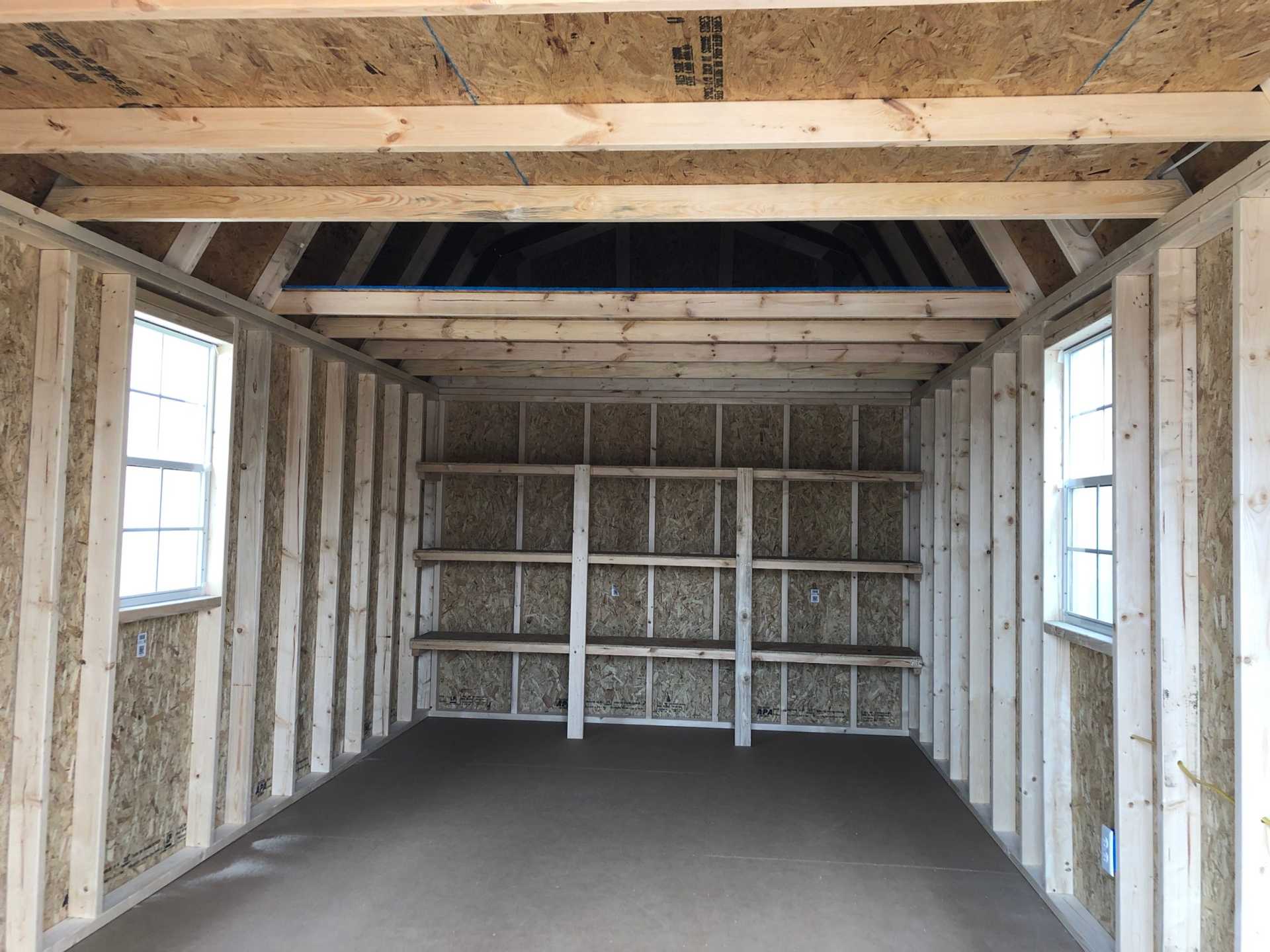 This is part five of a series of articles with tips for choosing the perfect shed solution for your needs. View part four.
When it comes to options for your new shed, the possibilities are nearly endless! Today, we'll weigh the pros and cons of all the different shed options.
Shelving
Most manufacturers offer two to three different types of shelving options that typically fall into one of the following categories:
Double Shelves – a double row of shelves, usually between 16″ – 22″ deep and priced by the foot. While 13″ – 14″ spacing between shelves is standard, this can often be increased to best suit your needs.
Triple Shelves – typically the sames specs as the double shelving with a third shelf added.
Workbench – most workbench options are at least 24″ deep and set about waist height for ease of use.
No matter what type you choose, shelving is the easiest way to efficiently maximize the available storage space.
Windows
Windows are one of the most important considerations when choosing shed options because they are the primary source of ventilation as well as being a great option for natural light. We offer many different sizes and styles of windows depending on your needs.
Aluminum Windows – Our cheapest option is a 2'x3′ aluminum window. This window is great for ventilation as well as natural light. It is the most economical option if you're not planning to insulate the shed. This option only comes in 2'x3′.
Vinyl Insulated Windows – The best options if you're planning to insulate your shed are vinyl insulated windows. They allow a lot of natural light and ventilation in addition to being insulated for better efficiency. Our standard sizes are 2'x3′, 3'x3′, and 3'x4′. We also have the option to get custom sizes, just check for availability.
Decorative Windows – Decorative window options are typically available as well and these include transom windows and octagon windows. Often, these windows are placed high on the sidewall and allow for a lot of natural light while keeping your shed secure from prowlers. The downside is that these windows don't usually open, so you'll need alternate sources of ventilation.
Doors
No matter what types of doors you choose, whether the standard double barn doors or a steel entry door, having two entry points into your storage shed makes for an extremely convenient and efficient storage solution. If you put the standard double doors on the end, and then a single door in the side, you can pull your lawnmower/utv in the end and then be able to access the back of your shed through the side entry door without having to make paths all through the shed just to access your stuff. We offer either double or single wooden barn doors for a relatively economical price. If you'd like to upgrade to a steel door, you'll have the option of a standard steel door, or a steel door with a 9-lite window panel in it. You also have the option to provide your own custom door and we'll install it for you.
Lofts
A loft in your shed can be a great complement to your shelves and give you an incredible amount of extra space. The biggest thing to consider when choosing whether to get a loft or not, is the style you choose. Our highwall barn style will give you the most space in your loft due to the barn/gambrel style roof. You can put a loft in the standard utility style as well, but the A-frame roof gives you a little less room for your loft. However, this may still be a great option if you have a lot of long items that aren't terribly tall. Our lofts come in 4′ increments and are available on all buildings at least 10′ wide and up.
Garage Packages
Depending on what you're planning to do with your shed, you may decide you want to put a large garage/rollup door on the end. There are basically two types of garage doors available in a storage building.
Barrel/Rollup Door – This is the most economical garage door available. It is a metal door that rolls up into itself on a barrel. While these are typically cheaper, they are not as tight as a standard overhead door, giving more access to bugs, etc. Over time, they will also need more maintenance.
Standard Overhead Door – This is the best option for a garage door in a shed. It is just like the standard residential garage doors in most houses and come either plain or with glass.
If you're going with a garage package you may also want to consider upgrading the floor to an extra heavy floor. Our standard floor is 3/4″ Advan Tech T&G floor on 2×4 floor joists on 16″ centers. If you're planning on parking a small car or some other heavy equipment, tools, etc. inside, we recommend upgrading to 2×6 floor joists on 12″ centers.
Wrapping up…
While this covers nearly all the shed options we offer, the possibilities are limited only by your imagination! You can add ramps, shutters, custom paint, pegboard and many other options to make your shed unique and fit your needs perfectly!
If you need some ideas or inspiration check out shed ideas on Pinterest, or give us a call at (931) 635-2244. Our customer service staff are happy to help in any way possible!
Next: How to Choose Your Shed Size